PRESS & CELEBRITY REVIEWS
I love my Crystal Eyes! I find the combination of Celestite & Iolite in the Angelic Mask is a heavenly blend! 

The most important feature for me is these masks are made using only Certified Fair Trade & Ethically Sourced Crystals!

I now have a few different Crystal Eye masks and I love them all! These masks help to prevent puffy eyes in the morning as the gentle pressure of the mask supports the delicate eye area as you sleep. 

Nathalie Elani ~ Beauty Editor Country & Townhouse Magazine
The Angelic mask is God sent!
Perfect for daily use and travelling especially - light and compact, to be enjoyed on flights and so on.

It's elegant, soft and seamless like no other mask I have tried.

Pure serenity and absolutely dreamy! 

Maya Ansar ~ Model ~ Fashion, Beauty & Lifestyle Blogger
I feel instantly calmed and soothed when I put this beautiful sleep mask on - I feel like it's become my signal to relax and switch off and get into sleep mode.

It feels wonderful on the eye area and I love how the crystals are contained in the mask!

Really gorgeous. 

~ Angelic Crystal Eyes

Alex Light ~ Hello Magazine Beauty Editor & Body Confidence, Beauty and Fashion Influencer
"HOT OFF THE PRESS"

Give eyes a pampering treat while you sleep with CRYSTAL EYES silk, Fair Trade Rose Quartz crystal infused eye mask

~ FEBRUARY 2020 EDITION

Country & Townhouse Magazine
I love my Crystal Eyes! 

It brings such comfort especially as I can be a terrible sleeper and it helps me to relax and get ready for bed. 
The silk material has even helped the texture around my eyes and is great when I travel on the plane too! 


~ Love Rose Quartz Crystal Eye Mask

Adeola Gboyega ~ Education/Artistry Manager for Pat McGrath
Sweet Soul Night

Crystal Eye mask at the ready, yes this eye mask has actual Crystals inside. 

I've been wearing it for 3 nights and have woken up with the most radiant eyes and no bags! 
They're charging my eyes under the moon. 


~ Moon Goddess Mask

Anoushka Florence ~ British Vogue Featured Healer
This fabulous silk eye mask from My Crystal Eyes is called Aura and yes, it does make me sleep like a BEAUTY! 


~ Aqua Aura Crystal Eye Mask

Nicola Lewis ~ Author and Founder of TGCO
CRYSTAL CONNOISSEUR COLLECTION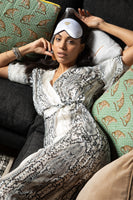 CERTIFIED FAIR TRADE CRYSTAL INFUSED SILK EYE MASKS & HIGH VIBE HOMEWARE
 We are the first company IN THE WORLD to use FAIR TRADE, CONFLICT FREE crystals and gemstones CERTIFIED BY THE GLOBAL CRYSTAL ASSOCIATION! So you can rest assured that when you buy any products from us that all of our crystals were mined by happy miners with happy hearts!
About Us
FAIR TRADE CRYSTALS CARRY A VERY DIFFERENT ENERGY
People always ask us why our crystals are so powerful and energetic and we want you to know why...it's because we don't just care about crystals, we care about the entire global mining community! 
WE ARE WORKING HARD TO PROMOTE FAIR TRADE CRYSTALS BECAUSE FAIR TRADE BENEFITS EVERYONE!
OUR MINERS ARE TREATED WITH THE CARE & RESPECT THEY DESERVE & IN RETURN WE RECEIVE THE PUREST & HIGHEST VIBRATING CRYSTALS ON THE PLANET!
SHOP ALL