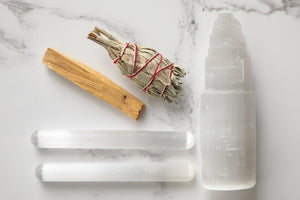 Take your meditation to the next level...The Crystal Consultant level!
This amazing Meditation, Chakra, Aura and Room Cleansing kit can be used to raise your vibration anywhere and on the go!  Simply by holding the 2 cylindrical Selenite Cleansing and Charging rods, you can change your vibration in minutes!  Selenite is known as the most Cleansing and Charging Crystal in the Mineral Kingdom so just by holding these Selenite rods in both hands you are creating a GOOD VIBRATIONAL CIRCUIT of pure, clean, high vibrational energy!
Combine that with the rest of this amazing kit and you cleanse and re-energise your space, home, office, aura and chakras!  
Included in the Selenite Meditation Cleansing kit:
I x Ethically Sourced Palo Santo
1 x Crystal Infused Ethically Sourced Californian White Sage (10cm)
2 x Artisan cut, Certified Fair Trade and Ethically Sourced Selenite Energy and Mediation Rods (14cm long)
1 x Artisan cut Selenite Tower (10cm)
Each item in this collection is handmade by local Artisans within the mining communities where these Crystals were ethically sourced and Certified Fair Trade by The Global Crystal Association.  
The Californian White Sage that we sell is grown by our own family, using only Organic materials and our whole hearted love to grow these gorgeous pieces of Quartz crystal infused sage bundles.  
The Palo Santo we use is from non Ecuadorian sources and we only use Palo Santo that has been cut from trees that naturally fell and have been laying on the ground untouched for a minimum of 5 years and up to 10 years, so that the natural oils in the Palo Santo or 'Holy Wood' as it is known, has developed making this beautiful scent when burnt.  For each batch of Palo Santo that we purchase, a new tree is planted in its place!