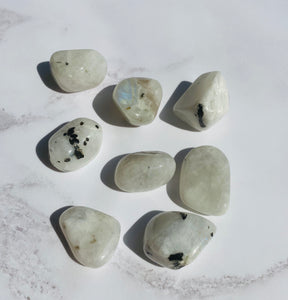 ETHICALLY SOURCED Rainbow Moonstone stimulates awakening of the Rainbow Body of Light.
Rainbow Moonstone emanates great vitality, life force and overwhelming joy. Its energy is more powerful than any other moonstone. The energy of the Rainbow Moonstone stone embodies many excellent qualities, including the feminine wisdom and Goddess energy of the waxing and full Moon.  It is said that Crystal...
Aligns and Activates all Chakras
Balances the emotions
Activates the central Chakric column of energy
Embraces the innate personal power within one
Aids one to kindle the inner light of the heart
Heals old emotional wounds
Diffuses energy throughout the aura
Strengthens intuition
Helps us in channeling our own intuition
Resonates a calming energy 
The Rainbow effect invokes a spectrum of light that cleanses and uplifts

This price is for one piece of RAINBOW MOONSTONE tumbled crystal of varying size. All crystals are natural and therefore shade, shape and size will vary.
*PRICE INCLUDES FREE SHIPPING*