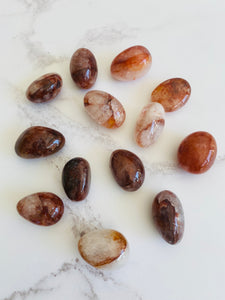 ETHICALLY SOURCED ~ GOLDEN HEALER ~ (RED LIMONITE) is a Crystal that is ideal for grounding your personal energy and the energy in your home or space...if your home is a bit chaotic or your office has a lot of people passing through with different energies then this is the Crystal kit for you as it will keep your space and energy levels GOLDEN, GROUNDED and connected to the EARTH! 
Golden Healer Quartz or Red Limonite as it's often called, will energetically clean everything in your auric field and fill it with golden healing light.
It is said it will even reach right down to your cellular structure to release old behaviors, conditions, and patterns.
It can also help you access the highest vibrations so that you can raise the frequencies in your body and release blockages and unwanted energies.
Golden Healer Quartz with Red Limonite inclusion can restore your body's balance and encourage peace and harmony.
**This price is for one piece of GOLDEN HEALER (Red Limonite) tumbled crystal of varying size. All crystals are natural and therefore shade, shape and size will vary. *PRICE INCLUDES FREE SHIPPING*