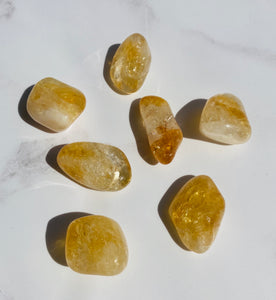 CITRINE is the the Crystal of WEALTH, ABUNDANCE, PROSPERITY, GOOD FORTUNE AND SUCCESS!
Citrine energises every level of life.  It cleanses the chakras and opens the intuition.  Citrine attracts wealth, prosperity and success.  It imparts joy, wonder, delight and enthusiasm.  Raises self-esteem and self-confidence.  Stimulates the brain, strengthening the intellect.  Citrine promotes motivation, activates creativity and encourages self-expression.
 It is said that to enhance concentration and revitalises the mind, Citrine should be held in the left hand and to release negative energy, fears and phobias Citrine should be held in the right hand to promote emotional balancing.
 This price is for one piece of CITRINE  tumbled crystal of varying size. All crystals are natural and therefore shade, shape and size will vary.
*PRICE INCLUDES FREE SHIPPING*